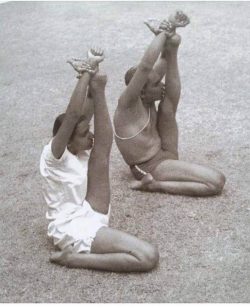 These sessions are designed for people who want to deepen their understanding of the Iyengar Yoga method and its characteristics: technical precision in every asana, the art of sequencing asanas, timing in the asana, the use of props (supports).
Students must have at least a 1 year regular practice of Iyengar Yoga to participate in these sessions.
30/09/2018

>

10:30

-

13:30

Sunday intensive, Stéphane DONATION KERALA

Fee: 50€
1/2 on donation to a ngo caring for Kerala (India) after the floods.
01/11/2018

>

09:30

-

13:00

All saints intensive, Alexis Simon

1,2 & 3 nov. = general level, minimum 1 year of practice
fee: 140 €

4 nov. = intermediate level, minimum 5 years of practice
fee: 60 €

full workshop: 200 €

info & subscription : aumalexisimon@gmail.com
www.iyengaryogamallorca.com
02/11/2018

>

18:30

-

21:00

All saints intensive, Alexis Simon

1,2 & 3 nov. = general level, minimum 1 year of practice
fee: 140 €

4 nov. = intermediate level, minimum 5 years of practice
fee: 60 €

full workshop: 200 €

info & subscription : aumalexisimon@gmail.com
www.iyengaryogamallorca.com
03/11/2018

>

09:30

-

13:00

All saints intensive, Alexis Simon

1,2 & 3 nov. = general level, minimum 1 year of practice
fee: 140 €

4 nov. = intermediate level, minimum 5 years of practice
fee: 60 €

full workshop: 200 €

info & subscription : aumalexisimon@gmail.com
www.iyengaryogamallorca.com
04/11/2018

>

09:30

-

13:00

All saints intensive, Alexis Simon

1,2 & 3 nov. = general level, minimum 1 year of practice
fee: 140 €

4 nov. = intermediate level, minimum 5 years of practice
fee: 60 €

full workshop: 200 €

info & subscription : aumalexisimon@gmail.com
www.iyengaryogamallorca.com
27/12/2018

>

18:30

-

21:00

Christmas intensive, Alexis Simon

27, 28 & 29 dec = general level, minimum 1 year of practice
fee: 120 €

30 dec. = intermediate level, minimum 5 years of practice
fee: 60 €

full workshop
fee: 180 €

info & subscription : aumalexisimon@gmail.com
www.iyengaryogamallorca.com
28/12/2018

>

18:30

-

21:00

Christmas intensive, Alexis Simon

27, 28 & 29 dec = general level, minimum 1 year of practice
fee: 120 €

30 dec. = intermediate level, minimum 5 years of practice
fee: 60 €

full workshop
fee: 180 €

info & subscription : aumalexisimon@gmail.com
www.iyengaryogamallorca.com
29/12/2018

>

09:30

-

13:00

Christmas intensive, Alexis Simon

27, 28 & 29 dec = general level, minimum 1 year of practice
fee: 120 €

30 dec. = intermediate level, minimum 5 years of practice
fee: 60 €

full workshop
fee: 180 €

info & subscription : aumalexisimon@gmail.com
www.iyengaryogamallorca.com
30/12/2018

>

09:30

-

13:00

Christmas intensive, Alexis Simon

27, 28 & 29 dec = general level, minimum 1 year of practice
fee: 120 €

30 dec. = intermediate level, minimum 5 years of practice
fee: 60 €

full workshop
fee: 180 €

info & subscription : aumalexisimon@gmail.com
www.iyengaryogamallorca.com
12/01/2019

-

13/01/2019

>

workshop Cathy Boyer

time :
Sat. 9:30 - 12:30 / 14:30 - 17:30
Sun. 9:30 - 12:30
subscribe + info : www.galini-yoga.be
02/03/2019

>

09:30

-

13:00

intensive, Alexis Simon

general level, min. 1 year of practice
time: Sat/Sun 9:30 - 13:00
fee : 120 €
info & subscription : aumalexisimon@gmail.com
www.iyengaryogamallorca.com
20/04/2019

>

09:30

-

13:00

Easter intensive, Alexis Simon

Sat & Sun : 9:30 - 13:00
General level min 1 year of practice
fee : 120 €

Mon : 10:00 - 13:00 / 15:00 - 18:00

asanas & pranayama:
Intermediate level min 5 years of practice
fee : 80 €

info & subscription : aumalexisimon@gmail.com
www.iyengaryogamallorca.com
21/04/2019

>

09:30

-

13:00

intensive, Alexis Simon

Sat & Sun : 9:30 - 13:00
General level min 1 year of practice
fee : 120 €

Mon : 10:00 - 13:00 / 15:00 - 18:00
asanas & pranayama:
Intermediate level min 5 years of practice
fee : 80 €

info & subscription : aumalexisimon@gmail.com
www.iyengaryogamallorca.com
22/04/2019

intensive, Alexis Simon

Sat & Sun : 9:30 - 13:00
General level min 1 year of practice
fee : 120 €

Mon : 10:00 - 13:00 / 15:00 - 18:00
asanas & pranayama:
Intermediate level min 5 years of practice
fee : 80 €

info & subscription : aumalexisimon@gmail.com
www.iyengaryogamallorca.com